The Fall
There is a dethroning that happens from a broken heart. A shedding of every reminder that you're royalty. Rich garments are traded for sackcloth, and the mourning settles in in joy's stead. Everything becomes blurred, tainted by the reality of loss. Absence becomes a presence of its own. You grow weary of yourself, weary of the snail's pace at which the healing comes. You flinch at the mention of love, of that sort of companionship. A deep, insatiable longing poisons your bones and it aches to move around in the world.

A Private Observation:
When my heart was broken, I began to notice tufts of hair slip into my hands and slide down my body into the drain. My heart was grieving, and my body joined along. The days went by and the hair fell out, bit by bit. There was nothing to be done about it except watch in despair as my body rid itself of my crown.


Powered by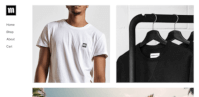 Create your own unique website with customizable templates.