Episode One: Reflections and Discoveries

Eyetu Ma, let us talk about heartbreak. I used to feel fickly, with kujejema kwa mtima- a numbing hesitation that cushioned me, so that

I was a blissful stranger to

what it meant to have a broken heart and feel the bleeding in your chest. The after-effects of it can make you want to hide your face from the world, Ma. Afraid to bump into the love that you lost.

A Tangent​
The beating of a broken heart has unevenly spaced-out palpitations which jolt only once in awhile to shock you alive. The rest of it is numbness, spread out thickly over everything your hurt has burned. Splattered over everyone (and over every joy and every moment) so that every single thing is mired in the pain of losing the one that you love.
​It can make you question who you've long known yourself to be. It can hold up a miry mirror and convince you that you are stained. It can make you retreat, in the name of fixing all the ways in which you might be broken. It can tell you lies like "only whole people can be loved." (It can make you forget, Ma, that all our brokenness is a reminder for our need for grace).
And who, among us, is whole?

Episode Two: The Moment

If you keep a straight face when the words that cut your flake down from his lips like falling snow- as quiet, as cold,

If you clench every muscle and fold every joint in your body and refuse to cry,

If you say you're unsurprised,

If your gaze is cool,

If you ramble,

If you tell him "It will be okay"

If you lie,
If you do not let on how disparaged you feel,If you feign a casualness as he breaks the news,
It won't hurt as much.
It shouldn't.

Episode Three: Pause, Reflect, Repeat

It is a possibility that we get over our hurt, but I'm reasoning that really, we learn how best to carry it. We learn to fold it up and stuff it in our pockets, in our sleeves, in our ears, in the tracks underneath our crocheted Jamaican Bounce hair (purchased on Sam's Beauty) and in between our toes. We learn not to keep any of it in our mouths because it tastes bad and sits too heavily on our tongues. We learn to twist it into a badge of honour and wear it out in the bright light of the morning sun. We learn to carry hurt with us and walk as normally as one can with all those bumps and bulges where it's tucked away.

Maybe we carry on mourning for the rest of our lives. Maybe the sobs subside, even as we erect memories as monuments with every shard that pierced our hearts.

Episode Four: Keep It Moving

The waiting ends. The waiting

must

end.

If you have more questions than answers and no one to ask, waiting is inevitable.
Waiting is toxic- it tethers you to the past.
The past isn't what lies at the other end of waiting.
Don't wait.
Powered by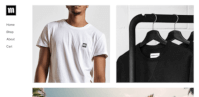 Create your own unique website with customizable templates.