I'm Malawian. A non-immigrant alien according to America's official books (fun, fun, fun). I'm JHFC- Just Here For College. I was having a conversation with some friends about the one-dimensional portrayal of Africans in Netflix's Dear White People. Tbvh with you, the recurring colossal failure of hollywood to properly capture Africans is a conversation I'm tired of, so i'm not really going to go there today. The issue is, I'm writing this 20 page paper for a Global Migration seminar about the multiplicity of blackness in America and the misconstrued conflation of immigrant black African people and American black people. As you might imagine, this sort of paper has me drawing up a binary of sorts, and although I'm trying hard to write about the insidious nature of this conflation in that it subsumes a vast array of realities into this mainstream understanding of blackness in America, I find myself guilty of other also insidious sorts of conflated thinking. Like the fact that there's this one "flavour" of blackness my paper seems to be suggesting is the reality in America. Or that African immigrants are, themselves, one group with similar experiences and identity politics (and political identities)- as if we (or they, since I'm a non-immigrant JHFC alien) are all wired the same, all come from the same place, all identify strongly as "African", and undergo the same process of Coming To [terms with] America. If I'm honest, the paper is worth contention, but if it's been useful for anything besides earning me my final grade, I think it's raised a lot of questions about representation.

Specifically, I'm thinking about the ways in which African immigrants themselves (and non-immigrant JHFC aliens) are incredibly diverse, yet certain narratives are, for various reasons, at the fore of our discourse on being black African immigrants. For example, your favourite Instagram comedian who's blazed the trail for all those "You Know Your Parents Are African When," etc is probably Nigerian. So is your go-to black brit blogger. The crazy part is, besides culturally-specific things like jollof and egusi soup, much of it strikes an African chord inside us. We see the gorgeous vlogger with her very Nigerian mother and we see shards of our Malawian Ma in her as well. And since that's mostly what's out there, we settle in and make our home in this reality of what it means to be African. Ah, yes, the sounds of our ancestral drums are in sync with our hearts and We Are. All. Africa... (-_-)

So what, then, is the use of even alluding to the Nigerianization of black African immigrants (or any such sort of phenomenon?)

See, I'm (maybe not so pioneeringly) theorizing that it happens- it's bound to happen. With any group, one narrative- one representation of an entire cluster of people can and will dominate, and it is precisely these narratives into which the rest of those who belong to the larger broader group with these people will be subsumed. By this logic, for all blacks in America, American blackness is blackness. For all black African immigrants (and non-immigrant JHFC aliens) in America, Nigerian Africanness is Africanness. In this case, all other smaller groups must fit into the rubrics of blackness or Africanness as defined by the more dominant group in order to gain social capital. The cup simply goes to those with the most social, economic, socio-economic, geopolitical, socio-political etc etc capital and lezbehonest, my friends- Malawi. Simply. Ain't It Fam. Not by a thousand kilometers.

So what do we do with this, then? Is any sort of visibility enough? Both in the sense of "oh look, Hollywood has an African in this film, but he's pretty dull and talks funny and keeps plopping your classic www.brainyquote.com 'African Proverb' in every other sentence (#ItTakesAVillage)" and in the sense of "oh look, this is such a Nigerian vine but as a Zambian, I mostly relate, so I'm down with it. Is any representation better than none at all?

p/s After I conducted some 'field research' in a group chat and asked, "do you think it's better to be visible, even if it's just stereotypes, or to be invisible?" my friend just hit me with this deep:

"But who are you being seen by. Aren't the only eyes that matter yours? Lol"

Mind=Blown. She's too conscious for this simple life of mine.

A Notice Of Your ArtSo you have learned to write. You have learned to tuck yourself away in times of respite from the toss and turbulence of life, and break yourself into a million pieces. You have learned to pick your fears apart, to study them closely and spin them into wistful prose.
Is it everything you needed? Is your writing met with a love as passionate as yours? A fiery love that waits for this work of your heart and welcomes it in a magnificent explosion of light? Or is there a cold silence that meets your laborious love, greeting it with a devilish grin and reeling it into its wiry arms?
A Nod To All Your Fears: People do not read your work. People read your work, but they do not respond. People misread your work.
​People make no time to read your labours of lengthy contemplation. People mistake you for a passionless fool who spills her soul on dirty roadsides. Trampled. Flattened. Covered up by the dust of years to be seen only if some strange soul will venture in its excavation.
An Ode to your Frustration:You are weary and worn like an ill-fitting garment. You are seen only when the masses applaud you, ignored when there is no endorsement of your art.
​A Reminder Of Your Place

You are brave for your arrival. You are brave for your mistakes. You are heard when your voice whispers, and they listen when you shout. You are real poetry and lyrical genius in a universe of mimicry. You are a burst of goodness; do not dim your shine. Show up as you are. You are putting truth into the world, and they are out there, listening.
Powered by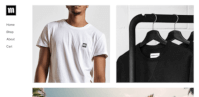 Create your own unique website with customizable templates.